About us
Briefly about the wedding at Achilles Park
Achilles Park is a fairy-tale wedding venue, featuring thatched cottages, deer, birdsong, and a blue lake in the middle of a circular forest, created with the needs of nature-loving couples in mind, located near the Gyirmót nature reserve on the banks of the dead Rába.
In creating Achilles Park, we considered it important to preserve the natural environment, using renewable energy, recycled and natural building materials.
Over several decades of successful operation, many couples have chosen us and tied their lives together in this wonderful place, during which time Achilles Park has become one of the most popular event venues, providing unique services in nature.
Read more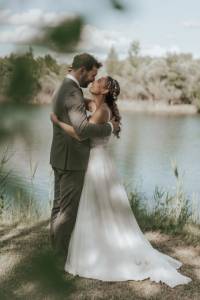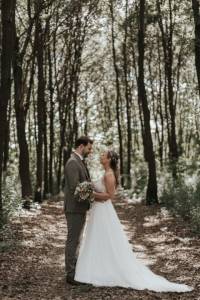 GALLERY
Get ideas from the photos of our previous weddings.
In our gallery, you will find many pictures that can help you during the planning, for example decorations, outdoor weddings, accommodation options…
Go to the gallery
Dear Kati and Ádám! We would like to thank you again! For us, this was truly the dream wedding, at a wonderful location, with wonderful people, very delicious food and a great party! Yesterday, approx. 30 people enjoyed the delicacies again, the soup and the stuffed cabbage were mentioned several times. Please translate our thanks to the staff as well, they really put themselves out there, the service was professional! We will wholeheartedly recommend Achilles Park as a wedding venue! Kriszti & Laci
We chose Achilles Park as the venue for our lagzi organized in June, and it was the best decision we made. The organization and execution went flawlessly, the staff work flawlessly and are very kind and helpful. The accommodations are clean and very cozy, we didn't think it would be possible to find such a good service team as that of Achilles, thank you very much, and we can only recommend it to everyone!
We had our wedding here in 2019. The staff and management are extremely honest, helpful and kind. The wedding party still mentions the delicious dinner to this day! Beautiful environment, interior, decoration. Thank you for making our "Big" day unforgettable! 😊. I can only recommend it to all young couples who are looking for a magical place to celebrate the union of their lives!
Perfect place, with professional employees, professional staff. If you want to organize your wedding, no matter how long you search, you won't find a more suitable place than Achilles Park. A beautiful place, with a huge lake, plants, games - close to the highway, but still a little isolated so that nothing can disturb your Big Day. Great scenery, delicious food (each guest separately praised the quality of the food) what more do you need?!
In May 2021, we opened the wedding season at Achilles Park. It was a great experience and a big party, thanks to the entire Achilles team. They were very professional from A to Z, everything was as planned, we just had to enjoy the evening.
I can only recommend the place if you want an incredibly fair attitude, accurate, precise execution and execution. In summary, it doesn't matter which part of the country you live in (we are from the Nyíregyháza area), you won't find a better place than this one!
Dear Achilles Team!
We would like to thank you again for helping to make our big day perfect! In addition to the wonderful location, impeccable service, flexibility and kindness greeted us in the park. Not to mention the food, they received almost as much praise as our opening dance! :))
THANK YOU
Dear Kati and Adam!
We're in for a fantastic party, which if it wasn't for Achilles Park, it couldn't have taken place. From the very beginning, we got maximum help and flexibility.
Scores for the evening: - Service: 5 points, - Meals: 5 points, - Environment: 5 points, - Atmosphere: 5 + 1 points
Our Great Day was perfect!
Dear Katalin ès Àdàm! Thank you for yesterday, they made this special and very important event unforgettable! The guests were also in love witht the venue, the food and the kindness of the staff! Everything was great!
Dear Katalin and Ádám!
Thank you so much for making our BIG day unforgettable! From the first minute, we felt like we had chosen the best venue to have an evening with our family and friends spiced up until dawn, spiced up with eternal memories. Everything was perfect. Kind service, delicious food, beautiful surroundings / decoration. A lot of us asked us if we didn't want to remarry because they were having so much fun! If we could, we would relive it.
Thank You!
Dear Kata and Adam! Thank you for this ferocious day, in addition to the venue, the more delicious snacks, the kind service, the super catchy down photo.
Dear Katalin!
We would like to thank you for everything in retrospect! Dinner was very delicious! We only got very good feedback from everyone during the evening. We also thank the waiters for the service, which could not have been more perfect. The decoration was beautiful and we are glad we had such an unforgettable wedding in the Achilles Park. The chalets also came in very handy so that guests were able to relax after the wedding and then a pleasant breakfast greeted us in the morning.
The most wonderful day of my life! Thank you Achilles Park for celebrating here! Everything was wonderful! Beautiful place, divine delicious food, kind service! Everything went smoothly! I will never forget! If I could once again I would choose this amazing venue! Thank you very much again for everything !!
We chose Achilles Park as the venue for our wedding and we were maximally satisfied.
The location is beautiful, tidy, our guests also liked it very much.
Both during the organization and at the event, the leaders and staff of the place were very helpful. Every little detail was paid attention to: e.g. the bride and groom eat / drink during the photo shoot to endure all day / night; small chocolates in the bridal wooden house.
We would especially highlight the kindness and flexibility of the people working there, which did not run out by the end of the night.
TOP!
They provided a beautiful venue for our wedding! They were very helpful! Dinner was divinely delicious! There was enough of everything! We loved every minute, we can only recommend it to everyone !!
Thank You! Everything from booking to handling was completely professional. Our wedding was wonderful and the party was fantastic 🙂 All our guests mention how good everything was, beautiful venue, delicious food, kind service.
Our day was on the last weekend of the summer in Achilles Park. Inside there is dinner and on the terrace there is a dance floor. We had to negotiate minimally with the park, they knew everything on their own, routinely they paid attention to things we didn't think of. The cottages are small but comfortable, doing their job perfectly. The spot is worth asking for maximum decoration, the end result is dazzling with lots of light. The service of dinner, the taste of the food, the attitude of the waiters and the speed of service are outstanding and can be set as an example for any restaurant and eatery. In our case, there was a big storm during dinner but the facilities at the venue ensured that the party could continue calmly and comfortably. The drink counter was located on the terrace, which was kept tidy and full, all participants really liked this guided self-service method. I could still write pages about positive things, but all I can say is that I recommend Achilles Park to everyone and there is no room for hesitation as the place is so hoarse.
The best wedding venue. We held our wedding here in the summer of 2019 and were maximally satisfied with everything. Professionalism was already visible during the preparations. The owner of Achilles Park, Kata, was always on hand when we had a question, providing us with a number of tips and tricks. The park is simply magical, we can recommend it to anyone who loves nature and is looking for a special wedding venue. Our wedding took place without obstacles, the work of both the waiters and the kitchen is impeccable! The food was excellent and the service was kind and fast, our guests did not miss anything. We strongly recommend it to everyone!
Professionalism, flexibility, humanity.
I could write pages about how wonderful a place Kati and Adam operate. But I think it says it all, the guest stated that they weren't such a great wedding long ago 🙂
If you want a good wedding, there are definitely other alternatives, but if you are genius you should not look any further. 😉
Thank you so much to everyone for the endless amount of work and attention that has made this day so wonderful for our children.
We can only say EVERYTHING WAS PERFECT, BEAUTIFUL AND DELICIOUS! THE LOCATION IS WONDERFUL, CLEAN AND ORGANIZED. The staff served the needs with the least disturbance of the guests and with maximum attention. There was no interruption in anything and it was a great reassurance for us. We knew we were in the right place, in good hands. The decoration could not have been more beautiful, the dinner was plentiful and delicious. We can only recommend it to anyone who wants something more for their wedding or wedding than a downtown restaurant. Achilles Park offers much more than that! It's hard to say, you have to feel it! Thanks for the whole weekend!
Once again, we would like to thank you and all the employees of the park once again for their dedicated work! Thank you for contributing to our big day with the best possible knowledge and expertise! It was perfect, we are very grateful for everything!
We wish you a lot of strength and perseverance for your further work!
The service was great, the location was wonderful, so I can say on behalf of ourselves and our guests that we were happy with everything. Thank You!
The best memory for us and our guests alike was that we could be away from the noise of the city in such an idyllic location. Since then, everyone has mentioned and praised the delicious broth and the wonderful environment. It is with pleasure and confidence that I can recommend you to everyone!